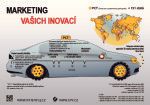 The Industrial Property Office (IPO) is one of the central authorities of the state administration of the Czech Republic and besides the functions of the patent and trademark office it performs also the functions of a special information centre of industrial property. The IPO deals with education of the public in the area of industrial rights by way of e-learning courses and regular seminars.
The stand of the Industrial Property Office will offer its visitors a possibility of getting familiar also with the information about the Visegrad Patent Institute (VPI), which is an intergovernmental organisation for cooperation in the field of patent protection and which started its activities on 1 July 2016. The VPI Establishment Treaty was made by the Czech Republic, Hungary, Poland and Slovakia.
At the stand, the visitors will find also other information on protection of industrial rights and on national and foreign information databases of industrial rights, which the IPO makes accessible on its web site, together with presentations of how to find there various information about the state-of-the-art technology.
Visitors can discuss various issues connected with the sector of industrial rights as well.